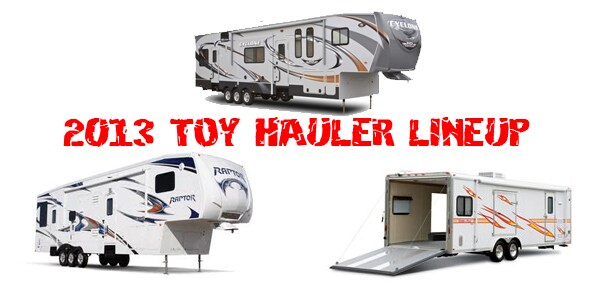 Toy haulers are a great way to bring some of your other toys like motorcycles or ATVs with you when you go travelling. With that said, 2013 is already looking to be a great year for some of the most established toy hauler brands out there from companies such as Heartland, Forest River and Keystone RV.
Here's just a sneak peek at what avid toy hauler fans may want to keep their eyes open for.
Heartland
is a well respected company that has been around for almost twelve years. To date, they've produced over 12,000 RVs. Heartland has a number of 2013 models that look exceptionally classy. The first is the 2013 Heartland Torque 271 toy hauler. The Heartland Torque 27 is 8'5" wide, 12' long and has a white and blue exterior. The interior offers a high end mattress, window blinds, an outside shower, three range stove, and high end furniture among other amenities. The 2013 Heartland Cyclone Toy Hauler is equally attractive. This one has a largely black and white exterior, sleeps 7+, and is equipped with three 32'' LCD flat screen televisions.
Forest River
has been around since 1996 and is one of the highest quality producers of RV and toy haulers in America. The Forest River Work and Play series also has a variety of different floorplans in its 2013 lineup. These include the 28MB, 18EC and 28FBW toy haulers. The 18EC features a very creative use of space management that makes its economical size equally as functional. This unit is also very lightweight and its interiors are compact allowing one to maximize the storage space offered by it. It has an enclosed bathroom and a kitchen with a three range stove, refrigerator, sink and microwave.
The 28FBW Toy Hauler has a very flashy exterior with its black color and graphic detailing. The interior is equally sporty with cherry wood cabinets and an overall spacious feel. With the variety of different designs, there's certainly a Forest River toy hauler that's right for you.
Keystone RV
offers some of the highest end toy haulers in the industry. Keystone RV has been around since 1996 with a huge focus on customer support and happiness. Perhaps this is how Keystone has become the number one retail seller of RVs in all of North America. Their Keystone Raptor comes in four different models that are all extremely attractive in terms of looks and design. They all have exceptionally detailed interiors and exteriors. The Raptor 310TS toy hauler features Corian solid surface countertops, a skylight in the shower, and countless other amenities.