Football Season is Here: You're Ready But Is Your RV?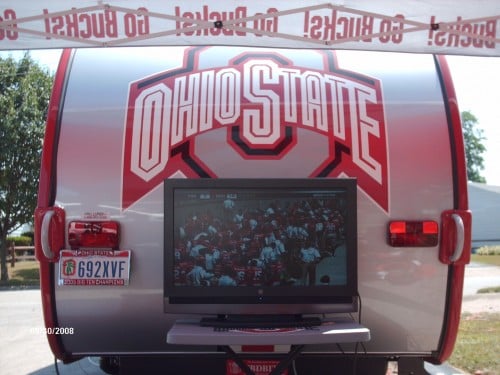 Get ready football fans, gridiron season is now upon us!
Weeklong buildups of anticipation while you wait to head to the stadium and tailgate with your friends combined with the fall smells of hot dogs and other goodies on the grill run rampant through your mind.
And once you do arrive to the big game, it's time to throw on your favorite jersey, helmet and even face paint to show support for your team.
With that said, if you're truly an ultimate football tailgating fan, then it's highly likely you own an RV, a place where you and your buddies can get together before the big game to talk trash about the opposing team. Here is a list of awesome ideas that will help make your
tailgating RV recipes
the talk of the town and even more, the best place to hang out before kickoff.
Adjustable Awning
An adjustable awning may not be the most exciting thing on this list, but its certainly a must have for tailgaters with RV's. An awning is perfect in all seasons, as it can shield you from the sun during hot days, but also protect you from the rain or snow as the season gets deeper into the winter months. Don't overlook getting an adjustable awning when making your perfect tailgate RV, or you'll certainly be wishing you had it when the weather conditions arise.
Smart Technology
Now were talking! With the advancement of technology in recent years, you can use tablets and smartphones to completely deck out your RV. Whether you have iPad screens or Smart TV's with your RV, you can use applications like NFL Ticket or College Football Gameday to keep up with your favorite teams before kickoff. This technology can be as extreme or as modest as you'd like to make it for your personal RV, but it will certainly be an attention grabber during your tailgate.
Entertainment
Aside from having smart devices, also have other entertainment options that your friends will enjoy. This means good old-fashion games of corn hole, ladder ball or beer pong. Also, bring along some motorized race cars that you and your friends can pin stickers on (one with the opponent and one of your favorite team, of course) and race them up and down the street. These games are great for tailgating fans of all ages.
Kegs and Grills
Be sure to have enough food for everyone that you meet while tailgating. In order to do this, bring along a grill with your RV. RV's now have a ton of room that can allow you to bring grills of all different sizes, which is perfect depending on how many people you are serving. Also, new advancements have paved the way for kegs that can be chilled and stored inside an RV, while having a dispenser outside of the motor vehicle. This will keep your beer flowing but also cold before game time.
Toilet
Don't forget a toilet with your perfect tailgate RV. After all, with all the food and beer that you'll be passing out, your friends are going to need somewhere to use the restroom without getting away from all the action.
All of these options will make your RV the perfect tailgate party during this upcoming football season. Not only will your friends think you have the best setup, but you'll be certain to make a few new friends along the way as well.