When you hear the name Winnebago, one of the first things which come to mind is "motorhome."
Perseverance is another word which should come to mind.




It was February of 1958, and during an economic downturn, when Forest City business man John K. Hanson and a group of community leaders from Winnebago County, Iowa, approached the California firm, Modernistic Industries, with a bold idea to help revive the local economy - open a travel trailer
factory.

After gaining support from the firm, the travel trailer factory would go through a rough beginning. It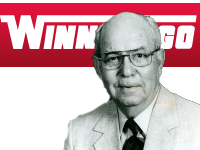 would preserve; however, and the entire operation would later be purchased by five Midwesterners with Hanson overseeing as president.


In 1960 the company officially became known as Winnebago Industries. Aside from the vehicle itself as well as to improve quality, Winnebago manufactured furniture and other components designed specifically for its travel trailers.

Perhaps one of the best manufactured items was the "Thermo-Panel" which was a strong, lightweight sidewall - a well-known trait among Winnebago products.

Winnebago Motorhomes first motorhome would roll off the assembly line in 1966. The company sold its early motorhomes at about half the cost of what competitors were charging for similar models. It is this business strategy which led to Winnebago's omnipresence and popularity among travelers.




Today, the name -

Winnebago Motorhomes

- has become synonymous with "motorhome."

And believe it or not, Winnebago is also sometimes looked at as a generalized trademark for motorhomes, whether they're manufactured by the company or not.
While a lot of changes have happened over the past 50 years with Winnebago, one thing remains the same:
Winnebago's commitment to continually provide high quality, efficient design, great value and eye-catching style in recreation vehicles remains a driving force for the brand.